Professional Placement Solutions, Inc. is dedicated to bringing a more personal touch to your staffing needs. We have over twenty years experience providing workforce solutions for a variety of industries, including medical, dental, IT, industrial, and legal. Our flexible hiring options include Permanent Placement, Temp & Contract, and Payrolling Services.
We distinguish ourselves by providing Competitive Rates, Generous Replacement Guarantees, and Personalized Service. We carefully determine your needs and bring you value by not only ensuring that our candidates meet your requirements, but that they will be a positive addition to your corporate culture.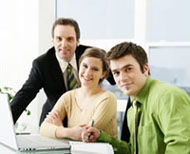 Besides thorough reference verifications, we can offer a vast array of quality assurance services, including -
PPS PAYROLLING SERVICE
If our clients find a candidate on their own and are not yet ready to hire them directly our payrolling service is the answer. Clients enjoy utilizing this convenient payrolling service giving them the time they need to determine budgeting and staffing requirements yet still enabling all work functions for a particular position to proceed smoothly. PPS will ensure that all temporary or temporary to hire employees are fully covered including workers' compensation and that all payroll taxes and expenses are taken care of and paid with no reporting necessary for unemployment or any other tax mandated headaches for our clients.
PROMOTIONAL PRODUCTS DIVISION

In addition to staffing Professional Placement Solutions, Inc. offers our clients the ability to promote their business utilizing a versatile line of specialty products such as pens, coffee mugs, T-shirts, awards, briefcases, calendars, etc. effectively at trade shows, multifunction events, incentive and/or recognition programs. Specialty advertising will create a dynamic impression for your organization in a wide array of activities gaining exposure and name recognition which is an invaluable tool. The benefits of utilizing promotional items are priceless.
Professional Placement Solutions, Inc.'s exemplary customer-focused service is not limited to the Dallas-Fort worth area. PPS, Inc. has been recruiting nationally since its inception and internationally since 1993.
Contact Us if you have any questions.